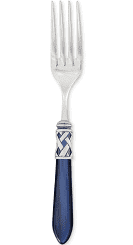 Aladdin Blue Brilliant Serving Fork
The Aladdin Brilliant Serving Fork features elegant pearlized handles with the strength of high-grade acrylic and 18/10 stainless steel.

9.5"L
Dishwasher Safe - We recommend using a non-fragrant/non-citrus, non-abrasive detergent on the air dry cycle (or econo heat when available). It is recommended to place the dishes so they avoid touching during the high pressure dishwashing and as such we recommend you do not overload the dishwasher. All dishes should be dried thoroughly before being stored.