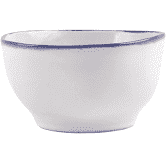 Aurora Edge Cereal Bowl
Maestro artisan, Francesco Venzo, meticulously handmolds the Aurora Edge Cereal Bowl, seals it with a crisp, clean glaze, and completes the one-of-a-kind piece with a smooth bottom. Handcrafted of durable stoneware in Veneto.
6"D, 3.25"H
Stoneware - Fired at extremely high temperatures, resulting in a vitrified product that is impermeable and less porous, elevating the strength and durability.