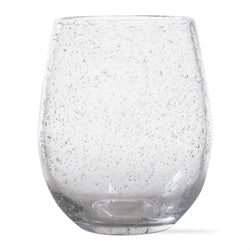 Bubble Glass Barware Stemless Wine
Stemless bubble glass is perfect for enjoying white wine on a calm summers evening. Each glass is handcrafted and designed with hundreds of miniature bubbles floating inside the glass, forming unique patterns and optical effects. Mix and match with the rest of tags Bubble Glass collection.
Dimensions:
4.3 inch h x 3.75 inch w.    Capacity 14 oz.