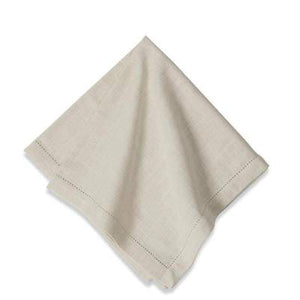 Hemstich Napkin - Ivory
The elegant Hemstitch Collection is perfect for formal dining. Our refined French linens provide a rich yet neutral backdrop for all types of dinnerware and can be mixed with our patterned table linens and accessories for more casual entertaining. A Caravan exclusive.

A fine linen cloth napkin transforms the ordinary meal into a dining experience and makes guests feel cared for, adding an extra element of polish to any occasion.
Each luxurious napkin measures a generous 22-inch square.
An intricate row of hemstitching embellishes each napkin.
Woven of 100% textured cotton.