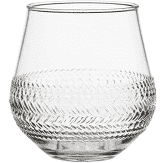 Le Panier Clear Acrylic Stemless Wine Glass
A study in contrasts, this Old World motif of French basket weaving is classic, yet blithely effortless, in modern acrylic.
Stemless for carrying vintages and cocktails outdoors, this versatile vessel allows adventurous entertainers to carpe diem and set a gorgeous scene, absolutely anywhere.
Dimensions: 3.8" diameter x 4"H
Holds 17 oz.
Imported
Dishwasher safe