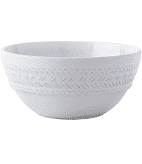 Le Panier Melamine Cereal Bowl Whiteweah
Dreaming of enchanting farmhouse dinners in the garden, we designed this bowl featuring a classic French basket weave rim. Richly textural and in our signature whitewash finish, you'll almost never believe that it is made of ultra durable, shatterproof melamine. Perfect for outdoor picnics and parties - but we're betting this chic and handy dinnerware quickly becomes part of your everyday repertoire, indoors and out.
5.3"W x 2.55"H x 5.3"L
Dishwasher safe, top shelf recommended; not oven, microwave or freezer safe. Not suitable for hot contents.