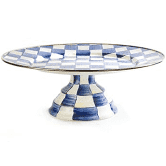 Royal Check Pedestal Platter Large
Give your masterpiece muffins and celebrated cakes the presentation they deserve. The Large Royal Check Pedestal Platter features an enameled steel underbody rimmed in bronzed stainless steel. A subtle jewel-tone palette is woven by an artisan's brush through the glossy, hand-painted checks in a range of blue hues.
16" dia., 5.75" tall. Flat surface inside raised rim: 10.5" dia.