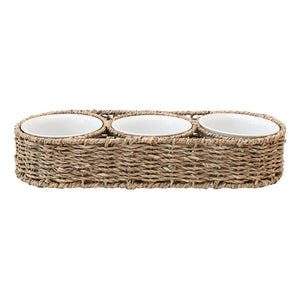 Seagrass Dip Set
𝟒-𝐏𝐈𝐄𝐂𝐄 𝐒𝐄𝐑𝐕𝐈𝐍𝐆 𝐒𝐄𝐓- MadeTerra Rustic Dipping Set includes an oval wicker woven serving tray and three adorble white porcelain bowls. The tray is made in the shape of a shallow long bowl basket, so it can be used to serve fruits or dry food. Note that you should lined the seagrass tray with cooking paper to ensure food safety. The 3 ceramic bowls are medium in size, perfectly fit for serving sauce or small food. The bowls can be placed inside the tray or used separately.
𝐅𝐈𝐓𝐒 𝐕𝐀𝐑𝐈𝐎𝐔𝐒 𝐎𝐂𝐂𝐀𝐒𝐈𝐎𝐍S- This Chip and Dip set can be used in many events of different décor theme, thanks to the unique touch it adds to the table. You can use it on your party, picnic, family gatherings, anniversaries, wedding table. Or if you are looking for a unique restaurant serving item, this set is an ideal choice. Its rustic look, the color and weaving pattern combination make the set an outstanding table top.
𝐐𝐔𝐈𝐂𝐊 & 𝐂𝐎𝐍𝐕𝐄𝐍𝐈𝐄𝐍𝐓 𝐂𝐋𝐄𝐀𝐍𝐈𝐍𝐆- The porcelain dipping bowls are dishwasher safe. After use, you could simply wash and dry them before storage. The seagrass woven tray should not be washed with dishwasher, though. Avoid placing food directly on the tray and gently dust it off after use. Once in a while, you shall wash it with water and hang it dry.
𝐇𝐈𝐆𝐇-𝐐𝐔𝐀𝐋𝐈𝐓𝐘- Handwoven from well-chosen seagrass, by the skillful hands of Vietnamese artisans, our serving wicker tray is sturdy and durable, yet light-weighted and splinter-free. The ceramic bowls are made of premium quality, in pretty shape with pearly white color. They are thick and not easy to break.
15.39 x 5.83 x 3.94 inches