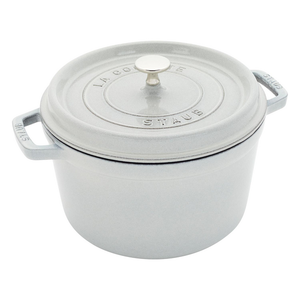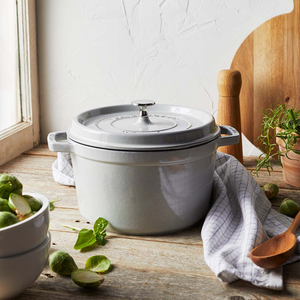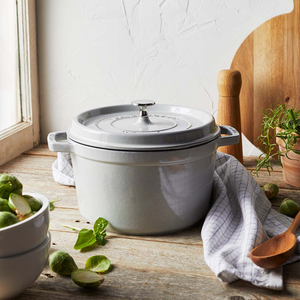 Staub Round Dutch Oven Cocette - White Truffle 7QT
A traditional French cooking vessel designed to concentrate flavorful juices, this hand-finished round Dutch oven is ideal for stews, soups, casseroles, roasts and braises. Enameled cast-iron construction distributes and retains heat evenly and effectively and requires no seasoning.

Lid features self-basting spikes for continuous, even distribution of juices throughout cooking, so food stays moist and flavorful. Durable matte-enamel finish won't discolor, rust or chip. Ceramic base is suitable for all heat sources, including induction.
Great for making stews, soups, casseroles, roasts and braises
Special spikes on the lid help keep food moist and flavorful
Distributes and retains heat evenly for perfect results
Durable enamel finish won't chip, scratch or discolor
Compatible with all heat sources, including induction
Ready to use—no seasoning required