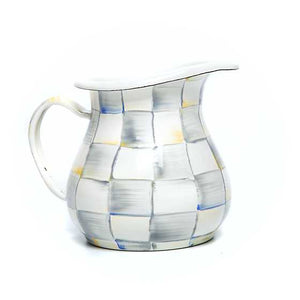 Sterling Check Enamel Creamer
The Sterling Check Enamel Creamer is the perfect way to energize your morning cup of joe. Take your coffee black? Don't fret—this versatile enamel vessel invites countless uses—from hot fudge to spaghetti sauce to homemade herb vinaigrette. The heavy-gauge steel underbody is glazed with hand-painted, color-dragged checks in subtle shades of grey.
5.75" wide, 4.5" tall, 14 oz. capacity
Materials
Heavy-gauge, hand-glazed steel underbody with hand-painted Sterling Checks. Pieces may vary due to the handmade nature of each product. Imported.