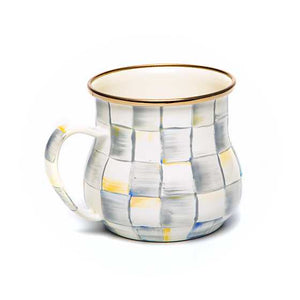 Sterling Check Enamel Mug
Hearty and handy, our handsome Sterling Check Enamel Mug is perfect for a cup of hot chocolate or calming tea. Similar in theme to our signature Courtly Check® enamel pattern, Sterling Check checks all our boxes. It's happy, it's clean, and it's classic. The heavy-gauge steel underbody is glazed with hand-painted, color-dragged checks in subtle shades of grey and rimmed in bronzed stainless steel.
4.25" dia., 3.5" tall, 16 oz. capacity
Materials
Heavy-gauge, hand-glazed steel underbody with hand-painted Sterling Checks, rimmed in bronzed stainless steel. Pieces may vary due to the handmade nature of each product. Imported.