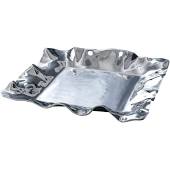 VENTO Olanes Square Platter
The VENTO Olanes Large Square Platter is a functional and spirited design, perfect for serving wedges of cheese with crackers for a gathering of friends.
The stunning Beatriz Ball platter features an ample square surface, and a gently undulating border that will enhance everything you present on it. Great for serving a variety of foods, it makes a shimmering base for a grouping of candles.