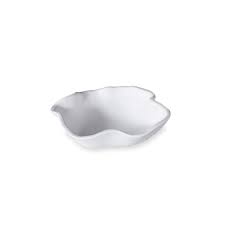 Vida Nube Mini Bowl
The VIDA Nube mini bowl is a small white bowl with outsized potential. This fabulous Beatriz Ball melamine design, presented in a sensuous matte finish, combines style and function in a multi-purpose bowl you'll reach for every day. Ideal for dips and salsas, salted nuts, snacks and more.
Yes, Beatriz Ball has reinvented melamine … again! A great addition to the bestselling VIDA Nube (Spanish for cloud, and pronounced, noo-beh) Collection featuring sculptural works of art rendered in a luscious satin finish.
The pieces in the Nube collection of luxury melamine are as practical as they are beautiful--a splendid addition to your store. Made of luxury melamine for everyday enjoyment, this piece is ideally suited for indoor and outdoor entertainment.
Dishwasher safe (top rack), heavy-weight, break resistant and durable, food safe, BPA and PABA free.
6.75 x 5.75 x 2