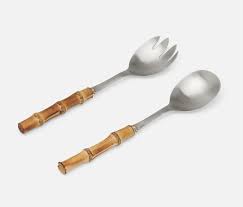 Zoya Bamboo Serving Set
The Zoya flatware collection brings an earthy element to the table with natural matte bamboo handles.
Finish: Matte Silver/Natural.
Material: Stainless Steel/Bamboo.
Variation to be expected.
Made in: Imported
Brand: Blue Pheasant
Dimensions: Serving Spoon: 2"W x 10"H
Serving Fork: 2"W x 10"H
Care: Dishwasher Safe, Freezer Safe.
Care: Hand wash only. NOT dishwasher, microwave, or oven safe.